Hall of Bones by Tim Hardie - 5/5 Stars
Posted on
Hall of Bones by Tim Hardie
Available on Amazon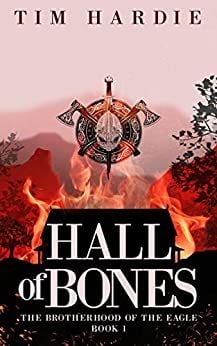 Blurb:
In the remote land of Laskar the seven ruling clans have vied with each other for power for over a century. The son of the Reavesburg Clan Chief, Rothgar, has been groomed all his life for a role supporting his elder brother, Jorik, in leading their kingdom when their father's time finally comes to an end.

However, the rulers of their greatest rivals, the Vorund Clan, are in the grip of something older and far darker. They have been conquered by evil, a remnant from the time when the gods warred with one another and the world of Amuran collapsed into the Fallen Age.

Everything is about to change …

The first book in The Brotherhood of the Eagle series, Hall of Bones begins a tale of epic fantasy, magic and intrigue.
My Review:
Hall of Bones, the first book of The Brotherhood of The Eagle, is set in a Norse-inspired region of a wider fantasy world; a region perhaps a little naive in retaining its warrior culture when there are so many sophisticated threats not so very far from their borders. The book has got warriors, clans, love, family, politics and magic, all artfully put together.
Despite not really being drawn to Norse books, this one had me at hello. It immediately drew me in, and I swiftly became emotionally invested.
The early chapters, told from the perspective of Rothgar, the younger son of the Reaveburg Clan Chief, tell the tale of his latter childhood and adolescence within his father's keep, in a style that reminded me very strongly of Assassin's Apprentice by Robin Hobb, but, I felt (no disrespect to Hobb - she also had an ability to draw me in) more authentically portrayed. Those chapters have a warm feeling, conveying the strength of the family connections with a hint of bittersweet nostalgia, as it is apparent the first-person narrator is looking back on a time when his home was stable and secure; a childhood idyll that would not last. Sure enough, life begins to take its toll when a rival clan steps up its raids and strife within Rothgar's own clan threatens his family's position.
Hardie's writing style is natural, warm and welcoming. I slipped into the world he has created with ease and tore through chapter after chapter, pleasantly immersed, but worried what would come next!
I look forward to the release of Sundered Souls, the second book of The Brotherhood of the Eagle.
5/5 stars!